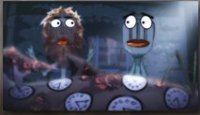 The Hobo Spatula is a protagonist from Spatula Madness. He lives in an alley with the Dolphin Clock Thing , which he created. He shows many similarities to The Hobo in The Cloak.
Appearances
Edit
Spatula Madness
Edit
He meets Edward on his way home and tries to sell him the Dolphin Clock Thing, which tells him that it is his destiny to defeat the Spoons.
While Edward is asleep, The Hobo Spatula contacts him through The Dolphin Clock Thing, and the two have a brief conversation.
A Night of Spatula Madness
Edit
Edward stumbles upon The Hobo Spatula in the middle of the night while wandering town, giving him a granola bar out of fear he will mug him. In return The Hobo Spatula allows him to view his punny creations. He has made numerous pieces out of dead animals and clocks, with puns for some. These include a giraffe covered in clocks with "turn right only" signs impaled in its trachea, three clock-coated sea otters dressed and arranged in a tasteful diorama of 19th century well-induced society, many clocks with presumably real bat wings attached to them that hang from chains, and also a hidden room with a plethora of manatees hanging by chains with clocks impaled in them. He is also revealed as an expert in the history and development of string theory, as he sings a song (with a fantastic coreographedd performance in his head) about such.